The story of the "Donkey Lady" in the history of Live Oak, for many years, has been considered a myth. Thanks to the work of the Historical Committee we have concrete information that she actually did exist and has a very colorful story to tell.
Her name was "Doc" Anderson and in the final years of her life, she was also known as the "Skunk Lady" because she found employment in extracting skunks from people's houses without her or the house being sprayed with the foul odor. All this while wearing a sun bonnet.
Live Oak apparently was the final home of the folklore legend "The Donkey Lady." Over the years, we have tried to find additional information on her.
The real-life persona of the mythical Donkey Lady was a woman by the name of Doc Anderson. In the mid 1940's and 50's, she ran "Doc's Little Dude Ranch," that legend says she originally existed in the area of the Medical Center in northwest San Antonio. She owned several donkeys and horses, and by most accounts she would rather spend what little money she made on food for the animals, rather than feed herself. Doc never really owned any land, or lived on property lawfully, but she would occupy undeveloped areas, which was referred to as "Squatting" in those days. Sadly, when the owners of the property found out she was there, with her animals, they would evict her. After one of her evictions, Doc and her donkeys moved to a wooded area, that is now the main portion of Live Oak, near Ed Franz Elementary School.
Live Oak, residents reported seeing her emerge from the woods with a string of six or more donkeys to get water out of the fire hydrants along current and future streets in the early days of Live Oak. The donkeys she had were reported to be "pink donkeys" the rarest of the breed. She was well into her 60's by this time and had been described as a frail, always wearing a sun bonnet, with pale white skin, bright red lipstick.
Some accounts have her living with a brother, but others claim that the gentleman, named Oscar, was her husband. All that is known about Oscar is that he had served in the military, he didn't always live with Doc, and that he died long before her disappearance. Considerable efforts have been made to try to find more information on him or Doc by using military records, but with no success.
She was also seen out of the woods off of Weidner Road in San Antonio. It was at this time in Doc's life where she was really struggling to make ends meet and the donkeys were starving. The donkeys had eaten all the bark off of the trees in the area.
After a short stay, Doc relocated the wooded area that was known as Robards is the nearly 500 acres where the Woodcrest subdivision is currently located. It had been an area that was plagued by thugs and criminals for many years. Car thieves would choose this area to strip down cars that they had stolen and set them on fire. One government document that exists within the city records of Live Oak states that there was a band of "Okies" living in the woods, and there is even a story of two people that were murdered in the area. Live Oak attorney at the time, Mayo Galindo, petitioned Bexar County and had the area deemed a "phantom paper city" and arranged for it to become part of the City of Live Oak. This area, complete with vacated shooting range and dump sites, a lake that was filled with silt and mud and barren paths that were occupied by "never do wells", was the final area where Doc and her donkeys were last seen.
By this time, Doc's health was failing and reports were that she had already lost one arm to diabetes making her appearance even more frightening to others who weren't aware of her misfortune.
She had also become known as the "skunk lady" because she had the ability to crawl under houses that were built on piers at the time and coax skunks out from underneath without the house and surrounding area being sprayed.
(See article by Sam Kindrick)
Her prize horse that had been with Doc her entire life, Mohawk, reportedly had been with Doc through her childhood while acting in western movies in California. One night some kids snuck up through the woods and shot Mohawk through the neck with an arrow which eventually led to the horses passing.
The last person to see Doc Anderson alive, that we are aware of, was Constable Bob Lew. He had presided over her evictions dating back to the 1950's and was present when she was led away from Woodcrest for the final time. Her health was failing at this point and to his recollection she was turned over to Bexar County social services who committed her to a nursing home, with no mention of where the donkeys, horses or any of her property ended up.
The City of Live Oak would be interested in any information that anyone might have regarding Doc Anderson.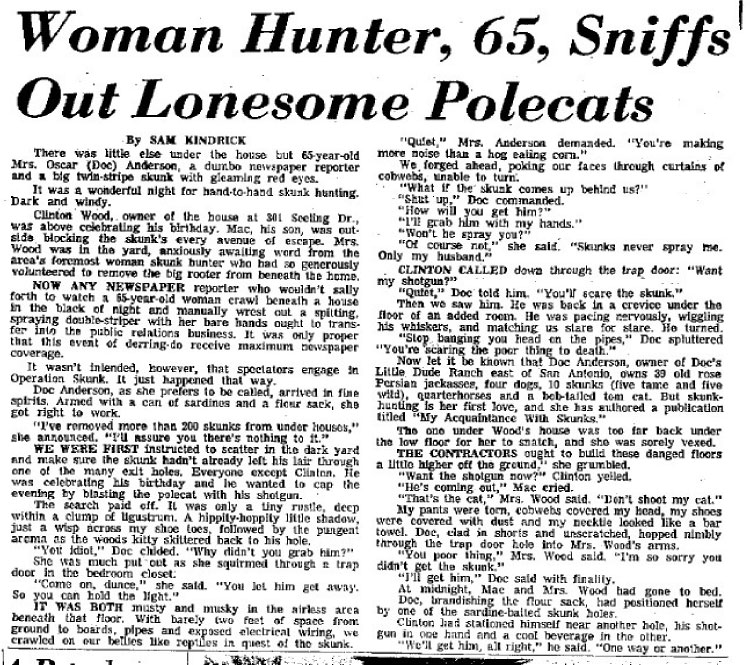 Chuck McCullough's Article in Express News
Other entries refer to the Windcrest/Live Oak Donkey Lady.
A woman named Doc Anderson was known as both the Donkey Lady of Live Oak and Windcrest and the Skunk Lady of Windcrest.
In a period spanning the 1960s-1980s, Anderson and a man described as either her husband or brother lived in what then was a mostly undeveloped area between Windcrest and Live Oak.
Described as an eccentric animal lover, Doc Anderson became known as the Donkey Lady because she kept a number of rare donkeys and the Skunk Lady for her ability to handle the smelly creatures without getting sprayed.
Sherillyn Flick, who grew up in Windcrest and today lives in the Dallas-Fort Worth area, has her own version of the tale.
"I have always been crazy about horses, and my dad used to let me ride at a place Doc Anderson operated off Weidner Road, north of Windcrest. That would have been around 1970," Flick said in a telephone interview from her Flower Mound home.
"Doc and her husband, who were in their late 60s or early 70s at that time, lived in a two-room house they rented, and the place had donkeys tied up in front and skunks under the house and in the attic. It was quite a sight," Flick said.
Anderson became something of a local legend, and children dared each other to ride by the gate to their rent house, according to several longtime Windcrest residents.
But times eventually began to get hard for the Donkey Lady, and Flick and her family and other kind-hearted individuals hauled water and supplies to the couple.
"They got food stamps, but it seemed Doc Anderson and her husband spent all their resources on their animals — the donkeys and the rest," Flick said.
The couple was forced to move from their rented property and then set up a squatter's shack on the eastern side of Weidner Road in a wild area called the Robards.
That's when the legend of Donkey Lady Northeast began to intensify, Flick said.
"They built a house out of scrap lumber, tin, cardboard, whatever they could find, and it was quite sad. There was no running water or electricity, and they lived there for years," she said.
People driving along Weidner Road between Windcrest and Live Oak would see a strangely dressed, one-armed woman suddenly pop out of the woods leading donkeys to water, according to Flick.
Flick said the Donkey Lady not only was a sad figure but a tormented one.
"Often young high school students would tease and harass Doc Anderson. They would sneak up at night and cut the ropes on all the donkeys and horses, and Doc would have to hunt them down in the woods. I saw her crying one time after that happened.
"We hauled water to them in the 1970s, but I lost track of Doc Anderson around 1977 when I went off to college," Flick said.
She said she can understand how Anderson became a larger-than-life legend as the Donkey Lady.
"She had real long hair, wore bright red lipstick and had a pale complexion. She wore sort of bag-lady clothes and acted strange. I believe over time the story of our Donkey Lady and the traditional Donkey Lady legend have become intertwined and merged," Flick said.
Scott Wayman agrees. He is assistant city manager in Live Oak and has been researching the history of the area for an upcoming anniversary celebration.
"I think for a lot of people our Donkey Lady and the other legend have evolved and become one. The Live Oak Donkey Lady was a one-armed skunk trainer who wore a bonnet and would pop out of the woods leading her donkeys at night along Weidner Road. That is the stuff of legends, and everyone around here knows the legend of the Donkey Lady," Wayman said.
The Donkey Lady was especially scary for the children of Windcrest, said Dede Winn, wife of Windcrest Fire Chief Tom Winn.
"My children were terrified of her because they and their friends heard Donkey Lady would shoot you. Apparently it was a big thing to prove that you rode your bike past her (rent) house," Dede Winn said.
The last time Windcrest and Live Oak officials heard anything about Doc Anderson was around 1982, but other people familiar with the woman said they believe she died in the 1990s.
While the Live Oak-Windcrest Donkey Lady is gone, her legend lives on and has morphed, some believe, to join with the Helotes and South Side stories.
The legend of the Helotes Donkey Lady said she haunts the woods outside that city. At least one online story tells of two foolish young men who decided to test the Donkey Lady legend and barely escaped after hearing scary braying sounds coming from either an animal or a woman. And, the site says, they found donkey hoof prints on their car.
If anyone has any information on "Doc" Anderson, or know of anyone in the area who may be her family, we ask that you contact Scott Wayman at the City of Live Oak at 653-9140 ext.261.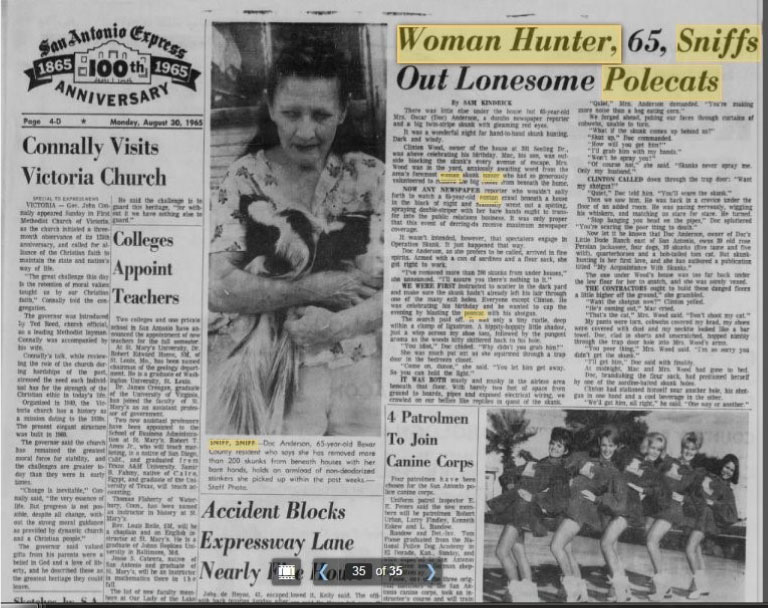 Information received from Tom Winn, fire chief of Windcrest. The lady's name is Doc Anderson. She used to own "doc's little dude ranch." There was a red barn on the corner of IH 35 and pat booker and you could have a party there and she ran a dude ranch out of it. (RED BARN). She was evicted from Live oak and moved into a house on Weidner road that was owned by Ebert. On the corner of Weidner at the creek. Now there is Cheyene valley.
She had pink donkeys and they were very rare. They were starving to death and had eaten the bark off the trees. They evicted Doc Anderson from there too.
She moved into Robards (on the Windcrest side of the highway) and she and her brother built a "lean to" and she lived there. She was known as the skunk lady and if you had skunks under your house, she could get them out. She had family in San Antonio and in the end she only had one arm. She used to have to haul water and she would be in an old red pick up truck hauling water to where they lived. When we used to have a brush fire, Doc Anderson would just appear out of the brush. Kinda spooky. She had several pet skunks.
Historical Testimony from Sherillyn Flick
Prepared by Scott Wayman from Telephone conversation on October 5, 2006
Sherillyn grew up in Windcrest and her father's name was Ronnie Wrono. Ronnie worked for Joske's department store and later for Dillards in the electronics. The following are her recollections of the Doc Anderson. (the Donkey Lady)
Sherillyn said that when she was young, she loved horses and her father took her to Doc's Dude Ranch to ride horses with Doc. Sheri didn't know if Doc was her real name or if it was because of her relationship with the animals that she went by Doc. At the time, Doc was married to a man named Oscar and they lived very meagerly in a small frame house in the area of Weidner road where it makes the curve towards Windcrest. This would have been in the early 1970's and by that time Doc was already approximately 60 years old. In describing Doc, Sheri said that she was a short and petite woman, about 5 feet tall and barely weighed 100 pounds. She sometimes wore a sunbonnet and her clothes were old and ragged. Later in her years she lost an arm, and Sheri seemed to believe that it may have been to cancer. She said she had long auburn hair and her face was very pale. She said she would sometime wear dark red lipstick that may have added to her odd appearance.
Since Doc lived by simple means, Sherillyn's father would trade her small appliances and pay her to take Sherillyn on trail rides through the old Robards area. Doc had Paint and Appaloosa horses and they were all named Indian names. Doc's horse's name was Cochise, but she also had horses by the name of Comanche and Apache. Doc had several other animals, and this included Donkeys.
Sherillyn doesn't remember anything special about the donkeys other than they were many different colors, and not just pink like had initially been reported.
They also had dogs, chickens, and actual wild skunks living in the house with them. She said that Doc had an uncanny ability to live among these wild creatures and they instinctively knew that she wouldn't hurt them and she was never sprayed or attacked by any of them. She said that the skunks would have litters of baby skunks in or around the house and Doc would take them in and provide them shelter. People also paid Doc to remove unwanted skunks from their homes, and because of this unique talent, some people called her "The Skunk Lady." Sheri said that Oscar and Doc were on food stamps, but they would spend these food stamps on food for the animals instead of food for her or Oscar. Her beloved animals always came first.
In approximately 1974, Doc and Oscar lost their place on Weidner Road and moved across Weidner Road into the undeveloped Robards area. There, among the mesquite brush and cactus, they built a house out of scrap wood, tin, cardboard and just whatever else they could find. The shack was very primitive, had no real flooring, electricity, plumbing or water. They slept on an old mattress. When Sheri would visit Doc at this location, Doc would show her pictures from the 1930's and 1940's and scrap books of when she was young and described her as a beautiful girl, equating her to Dale Evans. Sherillyn determined Doc's early life from these pictures to be somewhat "glamorous."
When I questioned Sheri about the "Donkey Lady" myth and how it morphed into a folkloric character, Sheri said that it was all because of the location and condition in which Doc lived. She said that, by this time in her life, Oscar had died and Doc lived a recluse life in the woods of Robards. She said that Doc had no water where her house was so she either had to have water brought to them, or she would lead the animals out of the woods and to the water.
She said there would be occasions when Doc would just pop out of the woods, onto Weidner road with a string of donkeys behind her and she stated that it was quite unusual to see.
Not to mention that the kids in Doc's later years seemed to torment her quite a bit, visiting her at night, untying her animals and even stealing some of them. She said it was just bizarre the manner in which she lived.
In terms of helping me get more information on Doc Anderson, Sheri stated that she thought that Oscar might have been a Veteran and seemed to believe that he may have died in the VA hospital. He was somewhat older than doc. Sheri stated that she left for college in 1977 and lost contact with Doc. She didn't know of any family that Doc had in San Antonio because she wouldn't believe that if there were family in the area, they would have let her live the way she did. She seemed to think that in the end, the State had to come out and remove Doc from the land and take her into their care. She said that she had no idea where the pictures or scrapbooks may have ended up, but wishes she knew what happened to Doc Anderson.
Historical Testimony from Constable Bob Lew
I had initially called Constable Lew to determine if he knew of any files that may have been left over from Ms. Anderson's evictions. Constable Lew stated that he initially met Ms. Anderson when she ran Doc's Dude Ranch in the 4800 Block of Fredricksburg road in the 1950's. I asked if she owned the property on Fredricksburg or if she just least it, and he stated that she likely just leased it. He specifically mentioned that they were Pink Donkeys that she had at the time. He said there she would have children's parties as well, but didn't have hay rides till she came to the Live Oak area. He said that he had to evict her from there and she moved to the area of Randolph Blvd. and Miller Road area.
At the time, she lived with Oscar, who was her brother, and neither one of them were ever married, but most people thought that they were husband and wife. Constable Lew stated that at the time, pictures were taken of Ms. Anderson but he stated that the court records at the time didn't require them to retain those records. I asked him if there was a possibility that they, the state, had to pick her up and take her to the state hospital when she got older and her health got bad, but he stated that he didn't know of any such committal by his office. He stated that Doc was not her real name, and was pretty sure that her real name was Dorothy Anderson. He didn't think that Oscar was a veteran and didn't know anything about how either Oscar or Doc died. He did say that he saw an article in the paper when she died about her life, but didn't know when it would have been, nor if it were in the Express News or the Light at the time. I asked him if there were any other information that he could give me that may help me determine what happened to Doc Anderson. He stated that at the time they were going through the process of eviction and "levying" the donkeys, the Plaintiff's attorney representing the county was Robert Ray, and he is still practicing law in San Antonio, and he may have further information on Doc.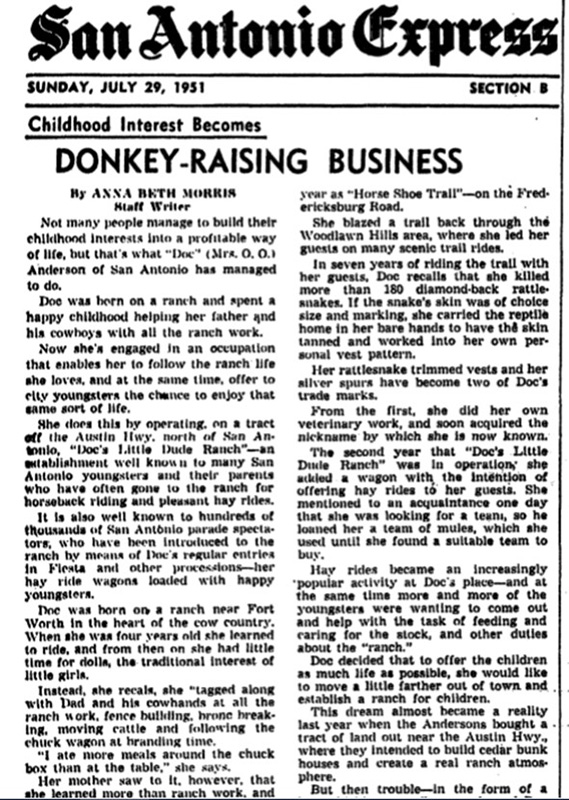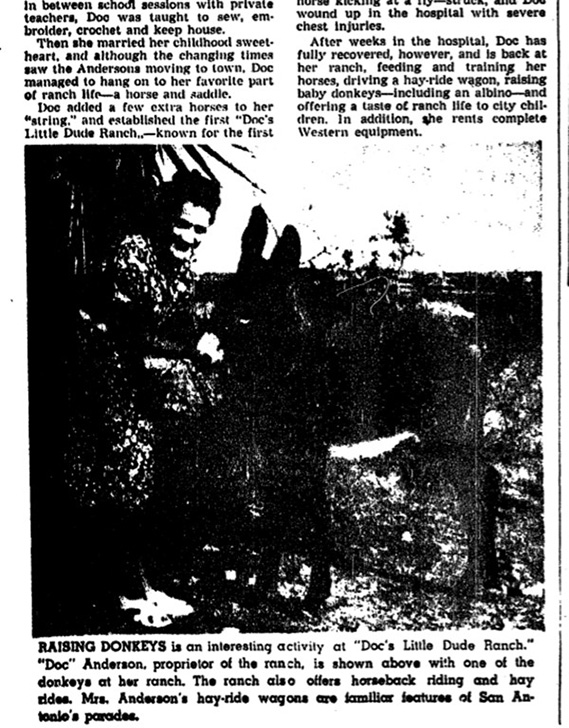 Email from Judith Dunetz
Sent to Chuck McCollough
Dear Chuck,
It was with mixed emotions that I read your article about "The Donkey Lady." Some sadness, a great deal of nostalgia and a bit of amusement at what "Doc" herself would think of the article and the things that people have said about her over the years.
I met "Doc" and her husband Oscar in 1975 through a mutual friend. This was when they lived off O'Connor Road, in what was called Robards. Yes, they lived in a little shack, but the love that filled that shack was enough to fill a 200 room palace.
I would go out to their place several times a week, take big bags of dog food, bales of Costal Bermuda hay and cat food, and some food for Doc and Oscar. They had many donkeys, jacks and jennies and adorable baby donkeys. Plus, quite a few horses, most of whom were named after Indian Tribes, Apache, Comanche, and poor Mohawk. Poor Mohawk because some cruel person shot Mohawk between the eyes one night. Doc and Oscar were so hurt, my friend and I helped dig a grave and bury Mohawk, which was no easy task as he was a Morgan horse. Doc and Oscar loved their horses and donkeys, they always said they helped us earn money and we will take care of them.
The animals were used in many westerns, The Cisco Kid television series for one. And Oscar was a stunt man, he used to be hidden under the seats of buckboards and wagons, stage coaches etc, and drive and audiences thought it was really the "hero" of the movie or series driving. During his stuntman days Oscar broke his hip and walked with a limp and stiffness. Someone gave them a palomino Tennessee Walking Horse and one late afternoon my husband and my 5 children all went out to the Anderson's and we all took turns riding the Palomino. We could see Oscar wanted so badly to ride, had not been on a horse in years with his bad hip. My husband and I helped him get in the saddle and that Tennessee Walking horse knew he had a great rider on his back and Oscar put him through his paces. It gives me cold chills as I write this to remember.
They had invited us all out to their place that afternoon, and they had sodas for all of us and cookies and chips, and how proud they were to "entertain" us and give us something. They were poor but proud as well they should be.
They weren't always poor, as mentioned Doc lost her left arm to cancer, and then years later, was kicked in the kidneys by one of her horses. She was in the hospital, won't mention which one, but she was told she was going to die. She and Oscar talked it over and he decided he could live on his Social Security checks just fine, they gave $200,000 to the hospital, this was what Doc told me. She lived and they struggled on Oscar's Social Security checks.
The love this man and woman had for one another was so beautiful. And I loved them dearly, they told me I was like a daughter to them.
My husband was transferred in 1987 out of this area and to North Texas, so I lost touch with my dear friends the Andersons for a few years. We came back to San Antonio area in 1980, and as soon as I could I went out to see them. They had been evicted from their "home" as another read stated, and had moved over in Robards close to Weidner Rd. They were living in their truck at that time, their animals came first.
In 1981 I joined the Bexar County Sheriff's Dept. And was training as a patrol office and riding with another officer. A call came in to us that there was problems at Robards, the caller had told the dispatcher that Oscar had a rifle and was going to kill Doc. We immediately made the location as did several other patrol units. With weapons drawn, we cautiously went through the brush and trees until we could Doc out about 15ft. in front of their pick-up truck with some of her animals and Oscar was sitting in the truck car with a rifle in view. Someone called out to him I believe, and he apparently didn't hear, nor did Doc. I was worried that he might move and someone would shoot so I holstered my weapon and told my partner I'm going in and I did amidst protests. I got close enough to the truck that Oscar could hear me and call out to him and said it was Judith. Doc came walking over to me and Oscar got out of the truck and there were hugs all around. She had been feeding the animals and Oscar was just sitting in the truck waiting for her, they kept the rifle handy because of rattlers!
I went to see them as often as I could, but was working days and by night time they were asleep. I went out one afternoon and there was no one there, no animals, no Doc and no Oscar. I asked around and found out that Oscar had died and Doc was in a nursing home, but no one knew which one. I did all I could to find her, but to no avail, then eventually heard that she had died.
I was so lucky to have known these two very special people. They enriched my life so very much, taught me a lot about horses. I am proud to have been able to call them friends. Speaking of friends, Dale Evans Rogers and Roy Rogers were also their friends, can't get better than that can it?
I think Doc would be a little hurt about some of the things that have been said about her, and a little amused too. Oscar probably would have been a little angry that anyone would talk that way about his precious wife, but Doc would laugh and say it is all right, and he would smile. I loved them very much and miss them. But know they are up in that big Horse Ranch in Heaven happy and healthy again. God Bless them from their friend,
– Judith Kelley
Email from Joan Seifert
Sent to Chuck McCollough
Dear Chuck,
As a young girl I remember Doc Anderson at "Doc's Little Dude Ranch" a western riding stable on Fredericksburg Road, across the street from TipTop Cafe, (there since the 1930's) This was in the late 40's and early 50's The area then was mostly undeveloped, and Doc would take children out on trail rides on her gentle horses. We rode out to what is now Inspiration Hills subdivision. She also gave hayrides; when I graduated from Horace Mann Jr. High School I had a hayride from Doc's. We rode from her stable to the Babcock Road turn at Dickinson Drive — we had a wiener roast there under a big tree (long gone now).
Doc and her husband Oscar were a favorite with us neighbor kids. I grew up on North Drive. There was no development during WW 2 of course. It was "open range" for Doc and her horse-loving customers to enjoy.
Doc was a warm and nice lady — weathered, straight and to the point with her horses and about how to ride, but she had her customers' interest at heart; wanted to see us have a good time. Gosh, the rides must have cost about a couple of dollars — imagine that!
One time at Fiesta I rode with Doc on a small covered wagon she owned. That was when Fiesta had a Western Parade (also long gone now).
So much is long gone! But Doc's Little Dude Ranch is one of my best memories. When she moved out to her other locations I lost track of her, but will never forget the fun memories.
PS — We never knew her as the "donkey lady"! That is truly a new urban legend, at least new to me, 72 years old.
– Joan Seifert
Chuck McCollough: Donkey Lady update
October 26, 2006
Reaction to the Donkey Lady story that ran in the Express-News and on MySA.com has been strong indicating a lot of folks enjoyed the fun story on a dreary Wednesday.
Apparently many local people have heard the Donkey Lady legend whether the South Side version or versions from other parts of town.
I enjoyed reading local folks telling their own Donkey Lady stories on a feed back forum and I learned a lot more than I knew before.
One question that came up over and over was what happened to the Donkey Lady of Live Oak and Windcrest? Her real name was Doc Anderson.
Reader Noel H. sent a version of what happened to Doc Anderson aka Donkey Lady Northeast.
Noel wrote — She (Doc Anderson) was such a neat lady that I only knew briefly. I was 14 when we met in the fields by the house I grew up in. Her shack was closer to O'Conner than it was to Wiederstein. Her and her husband had been squatting on that land for years and just at the time I met them, the man whom thought he owned the land had torn down there shack and ruffed them up. I was going to Central Catholic downtown for High School at that time, so I contacted KSAT with the help of my Mother. I think it was KSAT because it was right across the street from school, or it could have been KMOL. At any rate, they did a story and the newspaper picked it up as well. This old couple was living in their old dodge pick up thanks to the landowner. I remember a lawyer volunteered to help and he found that the eviction was illegal and was going to help them fight for their rights pro bono. However, she had a severe stroke and died a day or two later and the husband went out to California, so it was dropped. I'm not making this up. The time frame was mid February 1982 to early March of that year. She (Doc Anderson) had the most fascinating stories. She said her and her husband were extras who worked on "Rawhide" or one of those type 50's serial Westerns. She said that was because they could ride and she would often drive the wagon. She was missing her arm from the R. elbow down. She stated it was because of a tumor that she lost it. I used to help her feed her Donkeys when I could. It's hard to believe how afraid of her we all were. Come to find out she was just a sweet old lady. I believe she was buried here in SA.
The Real Donkey Lady
I grew up in San Antonio and heard the stories. I have my own. I met the lady that people referred to as the "Donkey Lady". She was a recluse and she may have been a nut but she told me she was the "Donkey Lady" so make up you own mind if she really was (although she was very lucid when I spoke to her).
I was riding my horse and came across a beautiful appaloosa colt tied up. A woman came out of the bushes when I was petting the colt and said she had seen me riding around and was watching me pet the colt.
She was very old (this must of been around 1980ish) and took me to her "house" made up of garbage bags and plywood. She told me her house burned down and her husband died and she had no where to go. She had donkeys, horses, skunks, and several other animals.
We sat and talked and she brought out an old photo album of herself and her husband. They had ridden horses for years and ran a dude ranch or something such many years before. We spent several hours together and she was very kind.
I went back and brought her some muffins as she liked sweets and talked again. I went back once more and she was gone. I never knew what happened to her. I'd like to get the story on the woman her called herself the "Donkey Lady". She seemed to have lived a great life but with a sad end.
Not very "chickenskin" but there is usually a truth behind an urban legend.
Perhaps this is the story of the true Donkey Lady. This account was sent by "D". If you would like to write "D", please send an email to texasair@htcomp.net. Thanks, D, for a warmer embodiment of this mysterious person.
– Tim
More on The Real Donkey Lady
I read "D's" story about the "Donkey Lady." I grew up in Windcrest (NE San Antonio) and knew her, too. Her name was Doc Anderson. Her husband's name was Oscar. In her younger hayday, Doc looked like a Hollywood star—another Dale Evans. They used to rent a farmhouse with a little property behind Windcrest, but they got evicted when they got behind in the rent. My Dad used to take us to her place to rent horses for a ride. After she was evicted in the 1970's, she and Oscar set up camp to the east in "Robards", an unincorporated area. They made a shack out of scaps of wood and tin. They had to haul water. I personally hauled big containers of water for her in the back of my truck several times. They lived in a primitive manner, often going hungry so they could feed their beloved animals.
Oscar died a few years later, and she was all alone. I think the County finally sent someone out to get her. I don't think she lived too long after that.
It's nice to know there were other people that showed her kindness, like "D". People tormented her and Oscar and stole their animals or killed them. She and Oscar were old, stubborn, and vulnerable. Their last years were very hard, but that's the way she wanted things. She didn't want to end up in a rest home.
1960-1980 – Donkey Lady
The legend of the Donkey Lady evolved over time from the 1960's until her death in the 1990's. Doc Anderson, known as the "Donkey Lady", was described as a pale, one-armed woman with long black hair and wearing bright red lipstick who lived in a house made up of tin and plywood in the "Robards" area. She would be seen wearing bag-lady clothes and a bonnet. She was known to have donkeys, horses, skunks and several other animals living on the property. Her and her husband would often go without food so they could feed their beloved animals.
The Donkey Lady was especially scary for the children. Legend has it that children would dare each other to ride their bikes past her house. High School students would tease and harass Doc Anderson and her husband, Oscar by cutting the ropes on all the donkeys and horses, and Doc would have to retrieve them from the woods.
While the Live Oak Donkey Lady is gone, her legend lives on and has morphed, some believe, to join with the Helotes and South Side stories. Even though the Donkey Lady was a recluse after the death of her husband, she seemed to have a simple life but with a sad end.