Public Works
The Live Oak Public Works provides the following services: Street Maintenance, Park Maintenance, Waste Water, and a Municipal Swimming Pool.
---
The City of Live Oak has partnered with WM to provide trash collection service twice weekly, recycle service collection once every two weeks, and curbside bulk waste and tied brush bundle collection once per month. WM is also providing unlimited concierge collection of household hazardous waste (HHW) through its At Your Door Special CollectionSM service for all Live Oak residential customer.
COLLECTION SCHEDULE
Trash collection is twice a week. Recycle collection is once every two weeks. Bulk and tied brush-bundle collection occur curbside the first Monday of each month.
CARTS
WM will deliver two NEW 96-gallon carts to each residence in July 2022.
1 - 96-gallon green cart for items considered trash
1 - 96-gallon cart with a yellow lid for recyclable items
Residents must use their new WM 96-gallon carts after receiving them. After receipt of the WM 96-gallon carts, no resident-owned or store-bought container will be used in servicing either trash or recycle material.
GENERAL COLLECTION GUIDELINES
Please follow the guidelines below to ensure trash or recyclable material collection. *Note: Collections may not occur at the same time of day each week.
To ensure collection, trash or recyclable carts must be at the point of collection no later than 7:00 AM on the scheduled collection day. Place cart with wheels against the curb and handles facing the home.
Do not include paint, motor oil, or other hazardous items.
Do not obstruct the collection of trash or recyclable material by parking vehicles in the vicinity.
Keep a 3 foot space between trash or recyclable material and other objects. With automated collection, all trash and recycling must be contained within the trash cart with the lid closed. WM will not collect items outside the carts.
OBSERVED HOLIDAYS
Waste Management observes the following holidays, collection will be delayed by one day for that week only:
New Year's Day
Thanksgiving
Christmas
BULK & BRUSH ITEMS
Curbside bulk waste and tied brush bundle collection occurs the first Monday of each month and is limited to six (6) cubic yards in total size. No construction or landscape maintenance debris may be placed at the curb for collection if generated by a third-party contractor, i.e. landscaper, treetrimmer, etc. It is the third-party contractor's responsibility to haul off this material.
Brush Requirements
Branches and tree trimmings must be no greater than six inches (6") in diameter and be cut, tied, and bundled in four foot (4') lengths weighing no more than forty to fifty pounds (40-50 lbs.).
Leaves and lawn clippings are allowable if bagged and remain within the total monthly limit of six (6) cubic yards.
Bulk Waste
Appliances with Freon® removed
Carpet (cut into 4 foot bundles)
Furniture and mattresses
Sinks, toilets, and drained/ empty water heaters
NOT Bulk Waste
Appliances containing Freon®
Batteries and paint
Concrete, brick, asphalt, and roofing
Construction debris from a contractor
Gasoline, oil, and filters
Tires, vehicles, and parts
EXTRA BAGS OF TRASH
Residents who have extra bags of trash must place a pink tag on each bag. Pink tags are available to purchase at City Hall for a nominal fee.
QUESTIONS? MISSED COLLECTION?
Contact our Customer Service Department Monday - Friday, 8 AM to 5 PM. Phone: 800-800-5804; Email: cssatex@wm.com; Online Chat: wm.com.
RECYCLING PROGRAM
2023 Waste Collection Calendar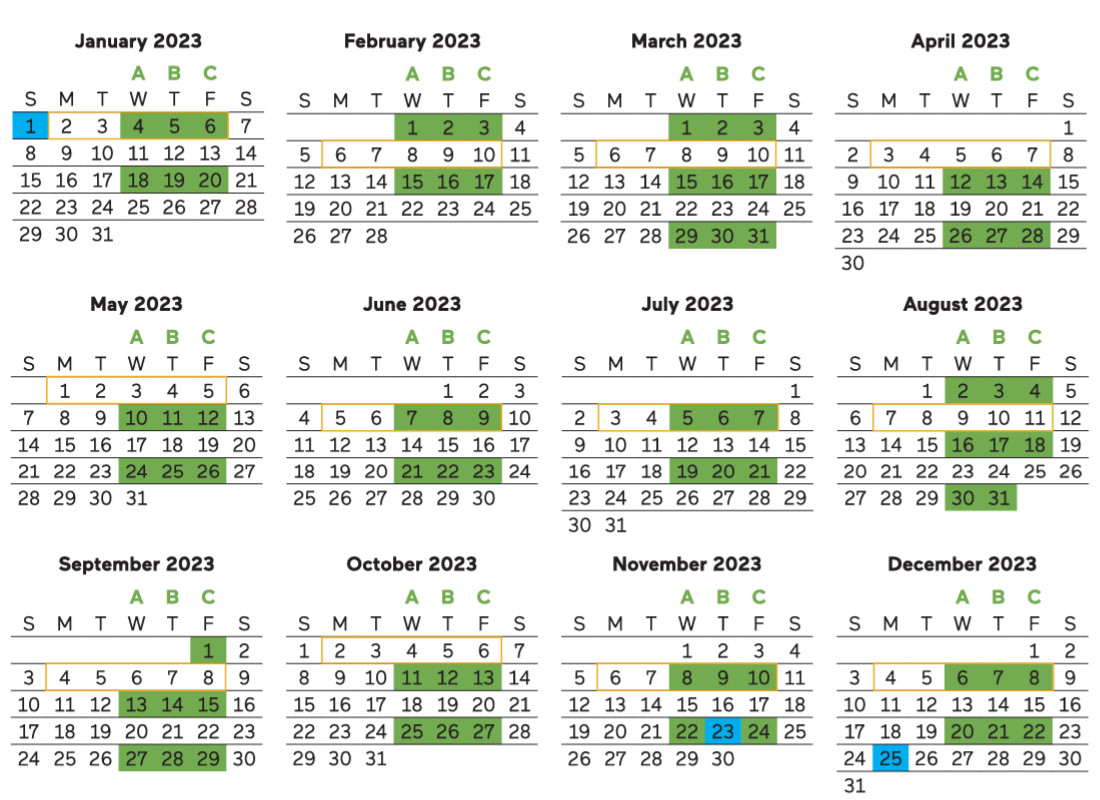 Recycling
Recycle days are highlighted in GREEN and marked by letters A - B - C. This is an every-other- week service.
Route "A" is Wed/Sat trash routes.
Route "B" is Mon/Thu trash routes.
Route "C" is Tue/Fri trash routes.
Observed holidays: No collection on Thanksgiving, Christmas Day and New Year's Day. If your regular collection falls on one of these observed holidays, your collection will be delayed by one day for that week only. Observed holidays are highlighted in BLUE.
Brush & Bulk Collection
Citywide curbside brush and bulk collection begins during the first full week of each month. Bulk and brush must be out at the curb prior to Monday.
Live Oak Recycling Program and Calendar
AT YOUR DOOR SPECIAL COLLECTIONSM SERVICE
Waste Management's At Your Door Special CollectionSM provides residents with front-porch service to collect the difficult, sometimes hazardous, and hard-to-recycle items that almost every household accumulates. Waste Management will collect the pesticides, household chemicals, sharps, electronic waste, batteries, bulbs, automotive waste products (including oil), paints, thinners, and dozens of other items that don't belong with your recyclables or regular curbside waste pickup.
Materials Accepted with Waste Management At Your DoorSM:
Automotive Products
Antifreeze, batteries, brake fluid, motor oil and filters, fuels and more
Garden Chemicals
Fertilizers, insect sprays, herbicides, pesticides and weed killers
Paint Products
Caulk, glue, paint, spray paints, stains, strippers, thinners and wood preservatives
Household Chemicals
Ammonia, heavy-duty cleansers, shower/tile cleaners, drain cleaners and rust removers
Electronics
Music players, TVs, DVD/CD players, VCRs, cell phones, microwaves, computers and monitors
Household Items
Batteries, compact fluorescent lamps (CFL), thermometers, thermostats, fluorescent tubes and more
MATERIAL THAT WILL NOT BE COLLECTED: Ammunition, medicine, explosives, asbestos, leaking containers, commercial chemicals, or hazardous materials in containers larger than five gallons.
To schedule a pickup with At Your Door Special CollectionSM or for information:
Please contact Waste Management at 800-449-7587, e-mail atyourdoor@wm.com, or visit www.wmatyourdoor.com.
FREQUENTLY ASKED QUESTIONS
Why is Waste Management replacing the 2-man rear loading trash trucks with a 1-man driver operated automated collection truck?

The primary reason is employee safety. Severe injury and fatalities have occurred from workers being exposed to motor vehicle traffic, the hydraulic compactor at the rear of the truck, and physically handling bags of trash. The employee operating the automated side loading truck remains in the truck during entire trash collection process.

Can I get a smaller cart or use my own trash can?

Unfortunately, only one size (96-gallon) is available for all residents. The automated system is only able to load the Waste Management cart. Residents will not be able to use their own cans.

If I choose not to recycle, then can I opt out of the 96-gallon recycling cart?

All residents will receive a wheeled recycle cart. Any resident that chooses not to recycle may have the recycle cart returned or picked up. The monthly fee will remain the same even if residents turn in the recycle cart.

What about residents with serious physical challenges that prevent them from handling the 96-gallon wheeled trash cart?

A "Door-to-Truck Service" is available on a case-by-case basis for those residents who have demonstrated a need or hardship necessitating this special service. The WM truck operator will roll the trash cart to the truck for service and return it to the side of the resident's home.

Will I be charged an additional fee on my bill for the wheeled trash and recycle carts?

There is no additional fee or special charge for the carts. All residents in Live Oak will pay the same monthly charge of $25.31 and the cost of the carts is factored into the new rate.

Will residents be violating any city laws by placing their trash carts on the side of their house or in front of their garage?

The city does not prohibit trash carts from being placed on the side or in front of a home. However, if you live in subdivision with a Home Owners Association (HOA), then you may want to review the rules and regulations of the HOA.
---
Water Conservation

The City of Live Oak is in Stage 2 Watering Restrictions
Stage 2 begin when the 10-day rolling average of the Edwards Aquifer level drops to 650 feet mean sea level at the monitored well.
All restrictions from Stage 1 remain in effect, unless added to or replaced by Stage 2 rules.
Landscape watering with an irrigation system,sprinkler or soaker hose is allowed only once a week from 7-11 a.m. and 7-11 p.m.on your designated watering day, as determined by your address.
Watering with drip irrigation or a 5-gallon bucket is permitted any day but only between 7-11 a.m. and 7-11p.m.
All residential fountains and indoor commercial fountains can operate at any stage of drought. Outdoor commercial fountains must have a Live Oak variance in order to operate during drought stages 1 through 4.
Watering with a hand-held hose is allowed any time on any day.
All non-public swimming pools must have a minimum of 25 percent of the surface area covered with evaporation screens when not in use. Inflatable pool toys or floating decorations may be used for this purpose.
Washing impervious cover such as parking lots, driveways, streets or sidewalks is prohibited. Healthand safety exceptions to this rule may be requested from the City of Live Oak in writing.
Residential car washing is allowed during drought once per week on Saturday or Sunday as long as there is no water waste.
The use of commercial car wash facilities is allowed any day.
Hotels, motels and other lodging must offer and clearly notify guests of a "linen/towel change on request only" program.
And don't forget to follow these year-round rules:
Water waste is prohibited at all times. Allowing water to run off into a gutter, ditch, or drain or failing to repair a controllable leak is considered water waste.
Restaurants may serve water only on request (to reduce dishwashing).
Charity car washes are allowed only at commercial car wash facilities.
*Watering Day is determined by the Last Digit of Address: 0 or 1 = Mondays; 2 or 3 = Tuesdays; 4 or 5 = Wednesdays; 6 or 7 = Thursdays; and 8 or 9 = Fridays (No watering on weekends.)
Water Restrictions Stage 1, 2, 3 & 4
Please continue to conserve wisely!
---
Track your water usage with My Water Advisor
Go to www.mywateradvisor2.com
Click on "Join my water advisor"
Click on "Sign up with account number"
Enter your account number with the dashes. ex. 00-0000-00
Enter your last name, add comma and then first name. (ex. Smith, john)
You should now be in a new screen that asks for your email and a password that you will use to log in every time.
Haga clic en "Unirse a mi asesor de agua"
Haga clic en "Registrarse con el número de cuenta"
Introduzca su número de cuenta con los guiones. ex 00-0000-00
Introduzca su apellido, agregue la coma y luego el nombre. (ex. Smith, John)
Ahora debería estar en una nueva pantalla que le pida su correo electrónico y una contraseña que utilizará para iniciar sesión cada vez.
---
Street Light Outages
Please email Cathi Piotrowski, cpiotrowski@liveoaktx.net (210-653-9140, ext. 2234) to report a STREET LIGHT OUTAGE.
---
Free Toilet Program
Apply for your free toilet today! Are you a single family residential customer living in the City of Live Oak? Are you on the Live Oak Water System, not SAWS (San Antonio Water System)? Was your home built prior to 1992? If the answer is YES to the above questions and you are not replacing an existing water saver toilet (1.6 gallon or lower), you are a candidate for a free water saver toilet. Click here for the downloadable application. Click here the Landlord Consent Form (This form is to be filled out by the Landlord). For more information on the Free Toilet Program, please call Cathi Piotrowski at Public Works 210-653-9140, ext. 2234.
---
Helpful Information
Click this link to view the Storm Water Questionnaire for the City of Live Oak.
Click this link to view the 2021 Annual Drinking Water Quality Report.