Public Works
The Live Oak Public Works provides the following services: Street Maintenance, Park Maintenance, Waste Water, and a Municipal Swimming Pool.
---
Street Light Outages
Please email Cathi Piotrowski, cpiotrowski@liveoaktx.net (210-653-9140, ext. 2234) to report a STREET LIGHT OUTAGE.
---
Household Hazardous Waste Disposal
Do you have used motor oil in your home? Fluorescent Light Bulbs? Pesticides? Old Paint? Unwanted TV or computer?
Click here for WM At Your Door Flyer.
This program has been a huge success for the City of Live Oak.
Call 1-800-449-7587, make sure that you tell Waste Management that you are a Live Oak Resident.
They will send you a bag or bags.
You place the bag/bags at your door and they pick them up.
It's that easy!
---
Recycling
Live Oak Recycling Program and Calendar
---
Free Toilet Program
Apply for your free toilet today! Are you a single family residential customer living in the City of Live Oak? Are you on the Live Oak Water System, not SAWS (San Antonio Water System)? Was your home built prior to 1992? If the answer is YES to the above questions and you are not replacing an existing water saver toilet (1.6 gallon or lower), you are a candidate for a free water saver toilet. Click here for the downloadable application. Click here the Landlord Consent Form (This form is to be filled out by the Landlord). For more information on the Free Toilet Program, please call Cathi Piotrowski at Public Works 210-653-9140, ext. 2234.
---
Water Conservation

The City of Live Oak is now in Stage 1 Watering Restrictions
Watering Day is determined by the Last Digit of Address: 0 or 1 = Mondays; 2 or 3 = Tuesdays; 4 or 5 = Wednesdays; 6 or 7 = Thursdays; and 8 or 9 = Fridays (No watering on weekends.)
---
Stage 1 Restrictions begin when the 10-day rolling average of the Edwards Aquifer level drops to 660 feet mean sea level at the monitored well. Coming out of drought stages can be considered 15 days after the aquifer is above the trigger.
All residential fountains and indoor commercial fountains can operate at any stage of drought. Outdoor commercial fountains must have a Live Oak variance in order to operate during drought stages 1 through 4.
Watering with an irrigation system, sprinkler or soaker hose is allowed only once a week before 11 a.m. or after 7 p.m. on your designated watering day.
Water waste is prohibited at all times. Water waste includes allowing water to run off into a gutter, ditch, or drain; or failing to repair a controllable leak.
Watering days begin and end at midnight; overnight watering is not allowed.
All non-public swimming pools must have a minimum of 25 percent of the surface area covered with evaporation screens when not in use. Inflatable pool toys or floating decorations may be used.
Hand watering with a hand-held hose, soaker hose, drip irrigation, bucket or watering can is permitted any time and any day.
Washing impervious cover such as parking lots, driveways, streets or sidewalks is prohibited. Health and safety exceptions to this rule may be requested from the City of Live Oak in writing.
Water Restrictions Stage 1, 2, 3 & 4
Please continue to conserve wisely!
---
Brush Pick Up
Waste Management provides brush pickup for the residents of Live Oak once per month. The City is divided into two zones, Gold and Green:
GOLD ZONE - Collection of the Gold Zone begins the first Thursday of every month. Area begins at Judson Road and IH 35 and includes Retama Hollow, Brentwood Oaks, Bridlewood and Lookout Road. Also includes original Live Oak North of Leafy Hollow.
GREEN ZONE - Collection of the Green Zone begins the third Thursday of every month. Area includes all of Woodcrest and original Live Oak South of and including Leafy Hollow.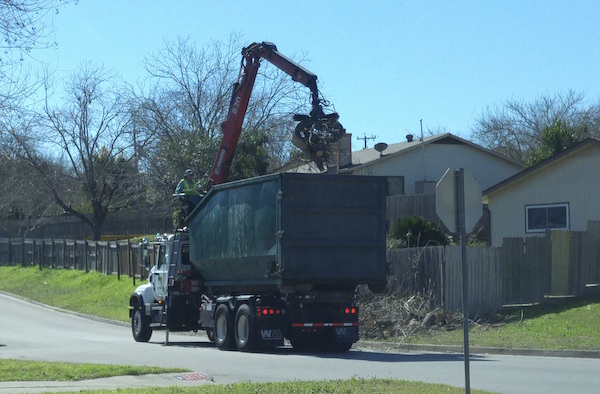 Waste Management will pass through each street only once, all brush must be placed curbside prior to the first day of scheduled pickup. The tree and shrub trimmings must be less than or equal to 12 inches (12") in diameter and the pile may not exceed 12 feet (12') in length, 5 feet (5') in height and 5 feet (5') in width.
In addition to monthly brush pickup, Waste Management will collect brush that is cut and bundled on your second regular trash day of the week. Bundles may not exceed 4 feet (4') in length and 35 pounds in weight per bundle.
As a reminder, Waste Management is not responsible for the collections of work completed by contractors. Tree removal and extensive tree trimming is the responsibility of the homeowner. For additional questions, please call Waste Management Customer Service at 800-800-5804.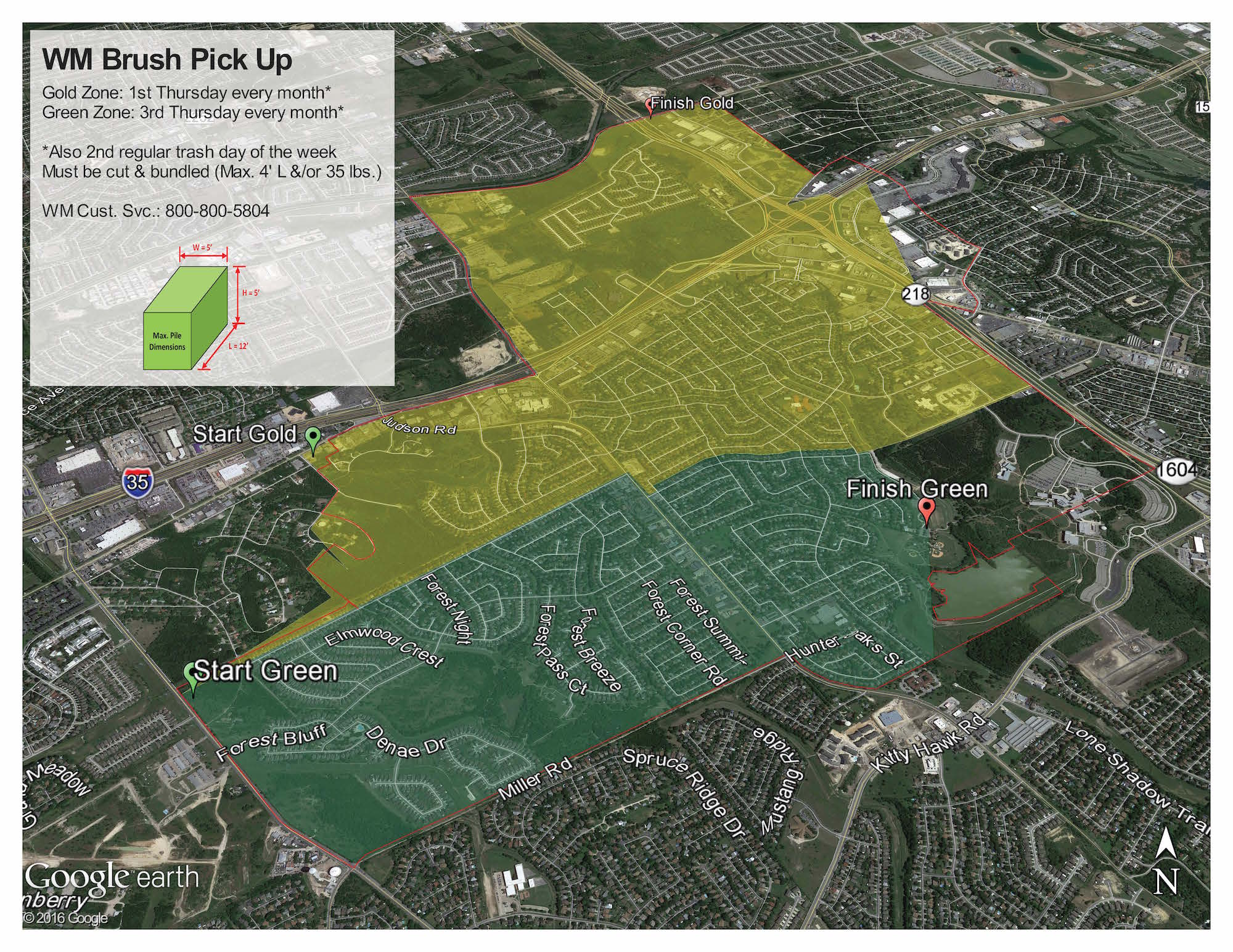 ---
Helpful Information
Click this link to view the 2020 Storm Water Questionnaire (Due 7/31/2020) for the City of Live Oak.
Click this link to view the Residential (Indoor) Water Survey & Landscape and Irrigation Water Use Survey for the City of Live Oak.
Click this link to view the 2020 Annual Drinking Water Quality Report.
For information on Mosquito and West Nile Virus Prevention, Click Here.
---
Track your water usage with My Water Advisor
Go to www.mywateradvisor2.com
Click on "Join my water advisor"
Click on "Sign up with account number"
Enter your account number with the dashes. ex. 00-0000-00
Enter your last name, add comma and then first name. (ex. Smith, john)
You should now be in a new screen that asks for your email and a password that you will use to log in every time.
Haga clic en "Unirse a mi asesor de agua"
Haga clic en "Registrarse con el número de cuenta"
Introduzca su número de cuenta con los guiones. ex 00-0000-00
Introduzca su apellido, agregue la coma y luego el nombre. (ex. Smith, John)
Ahora debería estar en una nueva pantalla que le pida su correo electrónico y una contraseña que utilizará para iniciar sesión cada vez.