Parks
The City of Live Oak Park Hours are 5:00 a.m. - 10:00 p.m.
Main City Park:
Entering on Welcome Dr. and Leafy Hollow is Live Oak's Main City Park. A total of approximately 75 acres, this park features several amenities including a football field, basketball court, three baseball fields, multiple playscapes and a disc golf course. The playground areas are equipped with a special type of fall zone made of recycled rubber and a surrounding fence providing increased safety for the children. There are 2 restroom facilities located in the park and are conveniently accessible from all areas.
The football field and baseball fields are under contract through youth sporting teams and therefore cannot be rented for private usage. When the fields are not utilized by these sporting groups, they are open to the public.
There are several picnic sites set among the park that are equipped with a table and many include a barbeque pit. These areas are open to the public on a first come, first served basis.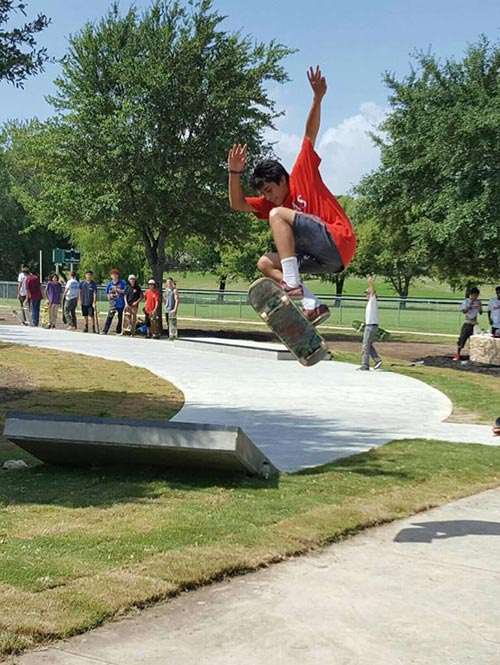 ---
Lakeside at Main Park:
The entrance to the lake and pond area at the main park is Lone Shadow Trail to Lazy Forest Drive. This tranquil spot is the ideal location for picnics and walks or a day of fishing. The gazebo is the perfect location for getting those one of a kind photos with the picturesque lake as a backdrop.
There are two handicap accessible fishing piers, one at the lake and one at the pond. The pond is also equipped with an aerator, creating fresh oxygen to extend the lifespan of our wildlife and habitation. Twice a year the lake is stocked with fish. In the cooler months a fisherman can expect to find some sizable trout, and in the summer months a plentiful assortment of catfish and bass. Be sure to toss in a line! All Texas gaming laws must be observed in regard to fishing. The first Saturday in June is National Fishing Day and no fishing license is required for this particular day.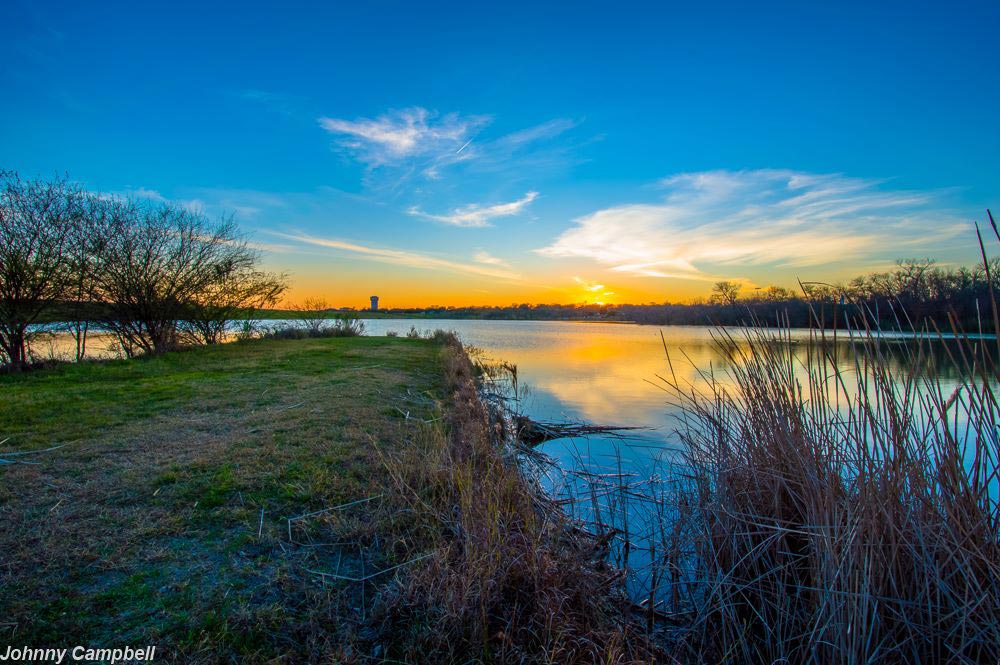 Boating Ordinance for Live Oak Lake
On August 11th, the City of Live Oak City Council passed an ordinance to allow for the use of kayaks, canoes, paddleboards, paddle boats and other non-motorized watercraft on Live Oak Lake. This does NOT include the use of individual or manually inflatable rafts or boats. The following are a few reminders for those wishing to engage in boating in Live Oak:
The City of Live Oak requires approved life jackets (PDF's) be worn at all times by anyone in a watercraft.
There are no vehicles allowed off the roadway, and portage of all watercraft must be accomplished by walking.
Consuming or possessing of alcoholic beverages while engaging in boating is prohibited.
The use of personal watercraft is limited to daylight hours only.
Swimming is not allowed in Live Oak Lake.
The City of Live Oak strives to provide new and exciting recreational activities for the community. We hope that you will remain a safe and responsible boater, and most of all have fun! For more information, and to see the complete ordinance that pertains to boating on Live Oak Lake, please see Ordinance #1521.
---
Live Oak Disc Golf Course at Main Park:
The City of Live Oak is very proud of our Live Oak Disc Golf Course. This championship course is home to some of the best disc golfers in the San Antonio Metro Area. The course begins in the Main City Park near the sports fields. For more information, please download the Live Oak Disc Golf Course Map. Special thanks to the Live Oak Disc Golf Alliance (LODGA) for putting together the map.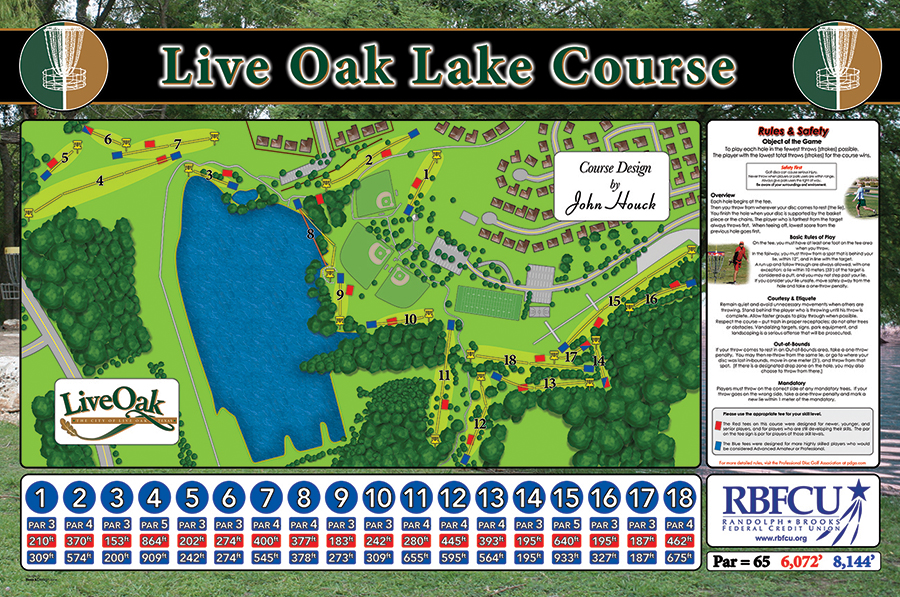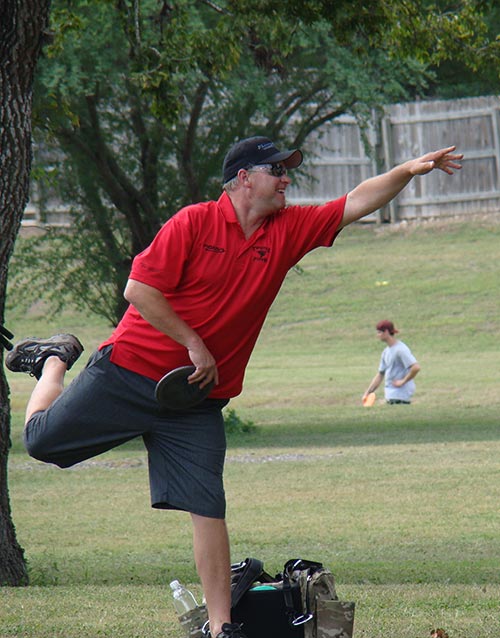 ---
Woodcrest Nature Park:
Woodcrest Park, located at 11021 Forest Pass Court was official opened on June 1, 2009. Approximately 32 acres, many of them being natural wooded areas, have made the park a favorite for the surrounding residents. The walking and jogging trails are thoughtfully looped so you don't have to turn around to get back to the starting area. Along the trails are picnic tables, many of them shaded, so you can stop and enjoy nature with your dining experience. The proximity of the restroom to the playground area is especially convenient for those accompanying small children. This particular playground offers many very unique and challenging activities including a large climbing rock, swings, two monster slides, sit and spin rides, elevated platforms with shade canopies, bridges between platforms, numerous play panels, and so forth. Even the state of the art artificial turf playground surface adds a special dimension to this one of a kind park amenity.