Home Inspections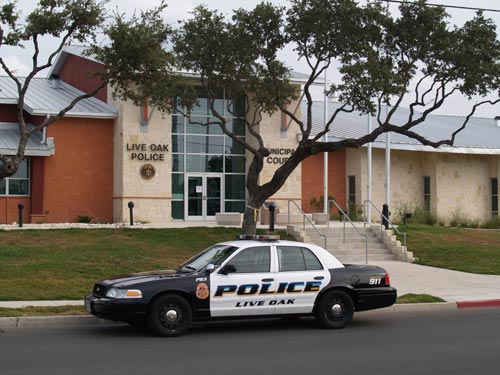 In today's tightening economy, saving money is a priority in many households. Many residents seek ways on how to stretch their budget and are unaware of a program that can save homeowner's on their home insurance premium.
A little known law passed by the 67th Texas legislature provides for the opportunity of a 5% to 20% reduction in insurance premiums for those homes that meet the specific requirements outlined in the Texas Insurance Code Article 5.33A, Section 6(a)(1),(2).
To qualify for this reduction in insurance premium, your home must be inspected by a Certified Home Security Inspector.
The Live Oak Police Department offers FREE Home Security Inspections to all citizens who reside in the City of Live Oak. Citizens can request their residence be inspected by a Certified Crime Prevention Specialist (CCPS). All inspections requested from the Live Oak Police Department will be conducted by a CCPS and are Texas Peace Officers.
Call the Live Oak Police Department: at 210-945-1700, Monday – Friday between 8:15 a.m. and 4:45 p.m. for your FREE Home Security Inspection.
---
Out of Town Request
Residents of the City of Live Oak have the opportunity to request an out of town watch provided by the Live Oak Police Department. The out of town watch program is designed to provide the patrol division with vital information pertaining to the citizens who will be leaving their residence for vacation. Patrol officers will coordinate additional patrols of residences while the home owners are away for a short or extended vacation. The out of town watch program will enable the police officers to observe and detect any suspicious activity which would warrant further investigation involving a specific residence on the program. The out of town watch request can be obtained on the main page of the police department web site or in person at the front lobby of the police department administrative office.
---
Alarm Permits
Communications Center/Non-Emergency Dispatch: 210-653-0033
All activated fire or burglar alarms located in the City of Live Oak are required to have a permit (residential and commercial addresses). City Ordinance Chapter 19, Article IV adopted 10 January 2012 set the fees as follows: Residential $10 per year; Commercial/Financial Institution $50 per year.
Violations: In addition to false alarm fees, violation of Chapter 19 of the City Code is subject to criminal prosecution as a Class C Misdemeanor.
False Alarm Fee/Penalties for false alarms: An alarm user shall be subject to fines for the signaling of a false alarm by a burglar alarm system during a twelve (12) month period as follows:
One hundred dollars ($100) after the third false alarm and for each subsequent false alarm for a private residence.
Two hundred fifty dollars ($250) for false alarms received for the 4th, 5th, or 6th false alarm for commercial establishments and financial institutions.
Three hundred fifty dollars ($350) for false alarms received for the 7, 8th, or 9th false alarm for commercial establishments and financial institutions. A permit or decal will be issued and must be displayed on the main entry door or on the window of the front of the building and must not be visibly restricted. An alarm permit will be provided to the applicant after payment is processed and applicant information is verified.
The Alarm Permit Application is available on the main page of the police department website.
---
Solicitor Permits
A background check must be completed on each person applying for a permit. Before making application, please schedule your criminal history record check by making an appointment to be fingerprinted - Fingerprint Applicant Services of Texas (FAST) online at www.identogo.com or by calling 1-888-467-2080. Once you have received your criminal history record, you may complete the solicitor permit application ($10 fee) at the Live Oak Justice Center, 8022 Shin Oak, Live Oak.
There will be one fee for the permit depending on the type of permit you are applying for and the length of time you choose. We will then make a badge that each individual must wear at all times while soliciting. This badge will have a color photo and beginning and end date of permit. Approved hours for soliciting are 8 a.m. to sunset.
All permits involving food must go through the Fire Department before being eligible for the application with the Police Department.
Please contact 210-653-9140 Ext. 2244 for permits related to food sales.
Please contact 210-945-1700 for all other solicitor permits.
The solicitor permit application is available on the main page of the police department on this website.
---
Community Communication - MYPD App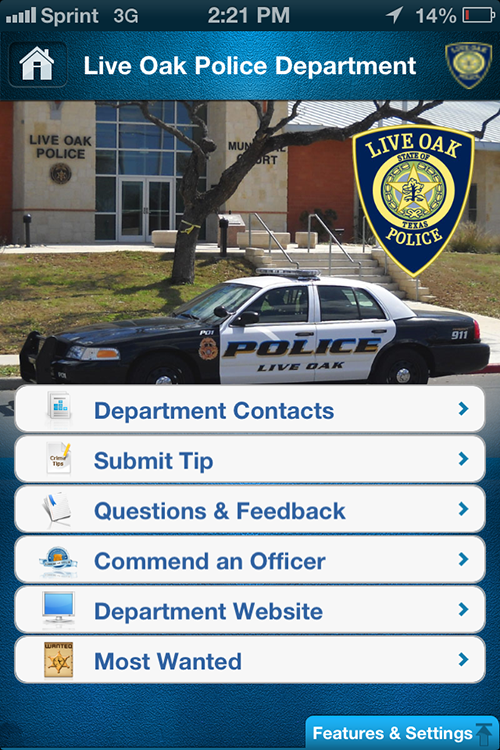 "Citizens have direct communication with their police department"
The Live Oak Police Department has found a new way to communicate and engage with residents in the city. Law enforcement must keep up and discover the latest trends in technology to stay in touch with the community.
The Live Oak Police Department began using the My Police Department or MyPD phone application as a means to provide notifications and information to citizens regarding events, crimes and wanted persons. MyPD is an app that can be downloaded through iTunes or Google Play. With it, citizens have access to a number of features including contacts, feedback and tip forms. They can also access information from FEMA, the National Weather Service and the National Terror Advisory System, and much more.
The police app also contains links to information about wanted persons, sex offenders and crime reports. It also allows the department to solicit help from the public in ongoing investigations or crimes. The Live Oak Police Department's Tip, Commendation and Feedback forms are also now available online and Facebook pages. This provides new additional ways to send in tips or concerns.
We can push out notifications and an alert to the public. The public has a variety of ways to contact us and provide feedback easily from a smartphone or tablet.
The department home screen contains a number of features with more located in the bottom menu which activates upon touch or swipe. 911 continues to be the appropriate method to report emergency situations and request emergency response.

The police app website can be found here: http://MyPDapp.com.
The download for the free MyPD app can be found on the Facebook page or by searching for "My Police Department" or "MyPD" in the iPhone or Android marketplace.
---
Police Fingerprinting
Public fingerprinting is available on Tuesdays and Thursdays from 8:00 a.m. to 11:00 a.m. and 1:00 p.m. to 4:00 p.m. The fee is $5 per fingerprint card. Persons requesting fingerprints must show a valid driver's license or state-issued photo identification card.
---
The Junior Police Academy will run Monday through Friday, June 19-23, 2017 from 8:00 am to 12:30 p.m. daily. Class size is limited to 50 students and Live Oak residents have priority. Applications will be available soon. The Live Oak Junior Police Academy is for children between the ages of 9 and 12.
Your child will meet many different police officers and public service personnel during the course of this program. This serves to provide positive role models for the children. Your child will learn about respect and courtesy for others and for the law, as well as explanations of the law as it relates to order in our society. Various members of the police department including Patrol Officers, Detectives, Bike Officers, K9, SWAT, Negotiators, and Communications Operators will meet the children and introduce them to the functions of their groups. Your children are given a tour of the Justice Center and the Dispatch Center where all 911 emergency calls are received. You may address questions to Live Oak Police Administration at 210-945-1700.
---
More Information:
| | |
| --- | --- |
| Non-Emergency Live Oak / Selma Communications (24 hours) | 210-653-0033 |
| Non-Emergency for Judson ISD PD (M-F 8-5) | 210-659-9789 |
| Non-Emergency for Selma Police Department (M-F 8-5) | 210-651-5368 |
| City of Selma Municipal Office | 210-651-6661 |