Current Job Openings Personal History Statement
Requirements
Minimum qualifications that apply to all applicants for the position of Police Officer must meet the following:
Age of 21
High School graduate or GED
Pass a written examination
Pass physical agility test
Pass an oral interview
Pass a background investigation, which will require an additional application process
Pass a physical examination, psychological screening, and drug test
Must hold a current TCOLE Peace Officer License, or be enrolled in an academy and be within six months of graduation
---
Disqualifiers
Disqualifiers for Employment
The following are disqualifiers for employment for all positions:
Behavioral
Membership or affiliation with any criminal street gang.
Intentional omission, deception, or failure to cooperate during any portion of the application or background process.
Financial irresponsibility
Unstable employment history as a result of poor performance, termination, negative behavior, inability to maintain a job, etc.
5. Driving history showing a pattern of irresponsibility, negligence, recklessness etc.
Drug Use
Any voluntary and/or willful consumption or use of marijuana in any form including marijuana derivatives, or synthetic marijuana within the past three (3) years from the date of the application.
Any voluntary and/or willful consumption or use of any illegal drug (other than marijuana) within the past five (5) years from the date of the application.
An applicant admits or is found to have grown, sold, transported, or dealt drugs of any kind will result in a permanent disqualification.
Use of any prescription drug or legally obtainable substance in a manner for which it was not intended within the past three (3) years from the date of application.
Conduct involving excessive and/or recent use of illicit substance or excessive use of intoxicants shall be considered on a case-by-case basis with consideration given to circumstances and the date(s) of use.
Criminal History
Conviction, admission or currently under indictment of any felony, or equivalent offense under federal law or the Uniformed Code of Military Justice (UCMJ).
Conviction of any Class A or B misdemeanor in the past 10 years, or equivalent offense under federal law or UCMJ.
Conviction or pending charge of family violence.
Currently under investigation for, or are considered a suspect in, any criminal offense.
Military Service
Not been discharged from any military service under less than honorable conditions including, specifically;

Under other than honorable conditions;
Bad conduct;
Dishonorable;
Any other characterization of service indicating bad character
As of: 2 February 2016
---
Physical Ability Course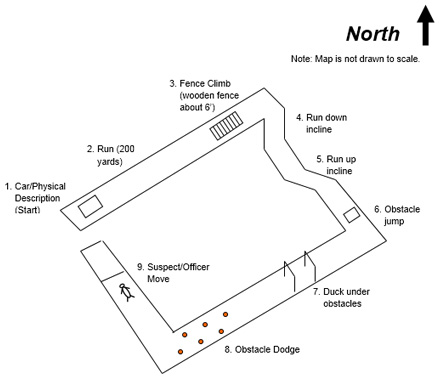 For a study guide with course details please visit the following link:
Applicant PT Test Study Guide
---
Citizens Academy
Live Oak Citizens Assisting Poilice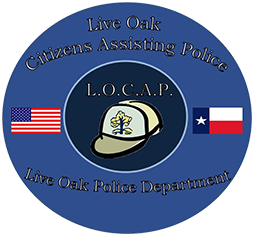 LOCAP (Live Oak Citizens Assisting Police) is a volunteer 501c3 non-profit group that was formed in 2011 to assist the Live Oak Police Department. In order to be a LOCAP member one must first attend and graduate from the Live Oak Citizens Police Academy. Once this is completed there is an application process, which includes a background check. Volunteers assist with various duties such as, filing, assisting with Municipal Court, auto auctions, calling on municipal court warrants, answering phones and driving the LOCAP vehicle around the business districts.
Citizens Police Academy
The Live Oak Citizens Police Academy is a community-oriented policing initiative that allows citizens the opportunity to learn about the issues that face law enforcement efforts in their community. The program helps local residents better understand police work and strengthens the relationship between the community and police department. The classes are instructed by civilian and sworn members of the Live Oak Police Department. Some of the subjects covered in the classes are, city governance, police emergency communications, Texas crime information center, crime prevention, criminal investigation, patrol tactics, traffic stops, response to resistance or aggression, SWAT, drug enforcement, and firearms. The academy is approximately twelve weeks long and is held in the Alfredo F. Araiza Training Room located at the Live Oak Police Department. It is held on a week night and starts at 7 P.M. and ends at 9 P.M.
---
Reserve Program
The Live Oak Police Department Reserve Police Officer Program has long been recognized as one of the most progressive reserve organizations in law enforcement. The purpose of this program is to assist the regular officers of the department in day-to-day operation and assist the staff in emergency operations. Reserve police officers are also involved in many projects and various other training and community related programs.
Reserve Officers serve the department and community in a non-paid, volunteer capacity with no expectation of compensation for their services. Upon acceptance into the reserve program, all personnel are required to fulfill specific monthly duty requirements.
For more information, please contact Sgt. William Feldtmose at 210-945-1700