In Memorium
"The Alfredo F. Araiza Room" Dedicated May 12, 2010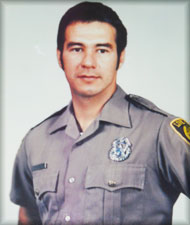 On behalf of the Live Oak Police Department, we recognize and thank all law enforcement colleagues, as we observe National Police Week. We honor and recognize those men and women who have given their lives in the line of duty. Their deaths remind us all that the safety and freedom we enjoy do not come without a price.
Officer Alfredo Araiza, living the life of duty, service, honor and bravery, paid the ultimate sacrifice, so that Live Oak citizens can live in the freedom of peace. The Live Oak Justice Center Training Room, that provides safety training for officers around the thirteen-county AACOG Region, has been named "The Alfredo Araiza Room" in his honored memory.
It was Araiza's dream since childhood to become a police officer. Reverend Bill Davis said that Alfredo had a "vision a long time ago that part of his life was going to be to make this place a bright, happy, and joyful place." He attended the Houston Police Academy, but wanted to clean up the drugs and violence infesting the West side neighborhood where he grew up. He returned to San Antonio and spent two years as a San Antonio Park Ranger before joining the Live Oak Police Department in April 1979.
In 1980, he was the first officer to die in the line of duty in Bexar County and in the Live Oak Police Department.
Officer Araiza is remembered to always be smiling. He was a happy police officer serving this community. His Sergeant, Ben Zamora, remembers Araiza as a quiet person; always smiling as he went about his job. Araiza never complained.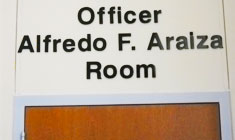 Alfred, the ultimate police officer, in the face of extreme danger, did not waiver in his bravery and duty to pursue the escaping violent criminals. He was doing so that we may all live in a safer, peaceful and happy place, that he dreamed of.
The City of Live Oak now dedicates the Live Oak Justice Center Training Room as the "Officer Alfredo F. Araiza Room", in Alfred's memory of his ultimate dedication, bravery and sacrifice in the face of extreme danger.
---
The patrol division works three separate shifts of varying hours, with overlaps for additional coverage and response during peak hours. The shifts are staffed by patrol officers, a corporal and a sergeant who is the supervisor responsible for patrol activities of the assigned shift. Most patrol officers currently work ten hour shifts. Patrol officers provide proactive enforcement of state law, traffic enforcement and respond to calls for service. Officers on each shift are assigned to districts within the city and are responsible for community relations and enforcement of city ordinances within their assigned districts.
---
The operations Bureau of the Live Oak Police Department employ two K-9's. The K-9 units work in conjunction with patrol and CID. The K-9's are trained in narcotics detection, search and patrol work. K-9 handlers go through a selection process and are then matched to the K-9. They train together to achieve detection certifications that comply with Federal, State and Case law that applies to search procedures. The K-9 units are primarily used by the Patrol Division and the Criminal Investigations Division with search warrants. Inter local agreements also allow the Live Oak K-9 units to assist other Metro Com Agencies when requested.
"Newest members of the Live Oak Police Department have 4 feet"
The Live Oak Police Department's K-9 Unit is a specialized unit that is capable of supporting any division of the Live Oak Police Department and the Randolph Area Metropolitan Community. The unit is comprised of two K9- Units that are both capable of locating narcotics, search/rescue, locating fleeing suspects, and locating items of evidentiary value.
The Live Oak K-9 Unit is committed to keeping the city's streets safe and staying one step ahead of the criminal element. This unit also participates in the promotion of community relations between the Live Oak Police Department and our citizens by conducting demonstrations of our canines' capabilities and to educate the public about the program.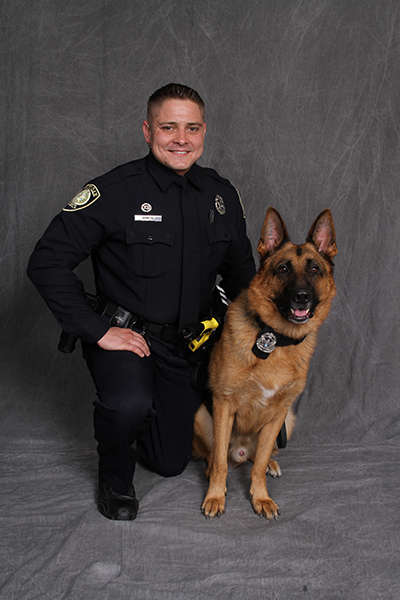 Meet "SMOKEY", a 4 year old German Shepherd from Holland. Smokey joined our team in 2012 and is a certified National Narcotic Detector Dog Association (NNDDA) Police Service Dog. Smokey is trained as a drug sniffing dog and is certified to track people. He is partnered with Officer D. Prieto. Since Smokey joined our team, he has made a major impact on fighting illegal drugs in the City of Live Oak. Smokey also participates in joint law enforcement operations. Smokey likes to play and have fun. On his off days he enjoys sun tanning and laying around in the back yard.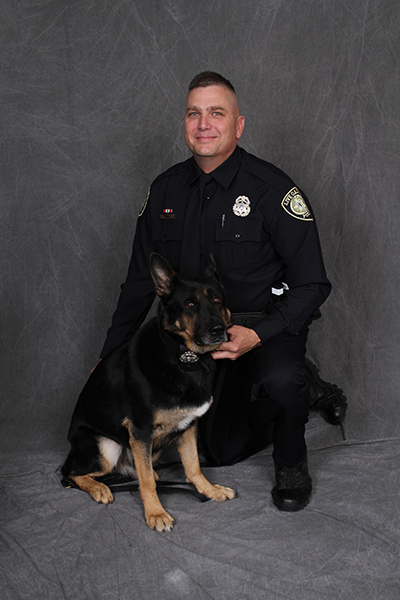 Meet "BOLO", a black German Shepherd. BOLO was the show dog for Government Solutions - G4S. BOLO is a certified National Narcotic Detector Dog Association (NNDDA) Police Service Dog. BOLO is trained to sniff illegal narcotics, evidence recovery and to protect his handler. BOLO is partnered with Officer D. Wall. BOLO recently joined our team in 2013 and is currently assigned to the night shift. BOLO likes to have fun while working and loves attention.
---
ATV:
All-Terrain Vehicles are assigned to the Patrol Division. These vehicles are used in various capacities from searches through rough terrain that the normal patrol vehicle could not access, to special events such as parades and events held in the City Parks. Officers who volunteer for this duty hold a primary assignment as a patrol officer. They go through a Texas DPS approved rider safety course and a forty hour police duty specific training course.
Motors:
Officers serving in the police motorcycle unit focus primarily on enforcement of Texas traffic laws, crash investigations and directed patrols in traffic problem areas. This is accomplished by utilizing stealth patrol vehicles and police motorcycles. Traffic officers also participate in state traffic programs such as "Click it or Ticket," which are directly aimed at enforcing various violations of state laws such as speeding, seatbelt and DWI offenses. Traffic offenses have shown to have a direct impact on the number of crashes, injuries and fatalities on Texas roadways. Officers assigned to the traffic unit are very experienced and highly trained in their duties in the City of Live Oak.
Bike Patrol: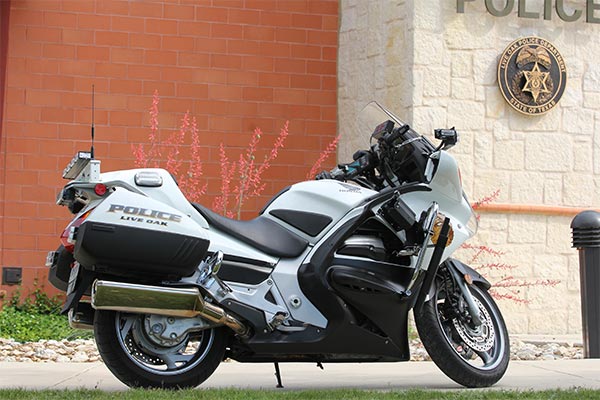 The Live Oak Police Department Patrol Division bike officers work in conjunction with patrol officers. Bike officers must successfully graduate from a Police Mountain Bike training course. The bike officers are utilized in areas like parks and retail business areas. The bike officers can travel effectively through areas that would slow a patrol vehicle or an officer on foot. The bike patrols are a great deterrent to crime, and a great way to interact with the public.
---
Accreditation
"Best Practices" Recognition 2019 - Presented by Texas Police Chiefs Association. Checks and Balances are done through audits and inspections by Texas Police Chiefs Association.

Being "recognized" means that our agency meets or exceeds all of the identified Best Practices for Texas Law Enforcement Agencies. These Best Practices cover all aspects of law enforcement operations including use of force, protection of citizen rights, pursuits, property and evidence management, and patrol and investigative operations.