The Support Services Bureau is comprised of professional public service personnel tasked with supporting the mission of the Live Oak Police Department by providing management and operational support of the regional Live Oak Radio System, Emergency Communications Division, Property and Evidence Division, and Records Division.
---
Emergency Communications
Live Oak is equipped with a state of the art Regional 700/800 MHz APCO Project 25 (P25) Radio System. This system serves many Randolph Metro-Com agencies, including Cibolo, Converse, Selma, Schertz, Universal City, and the Judson Independent School District. With a coverage footprint ranging from San Antonio to Austin, all the way to Houston, the radio system also has interoperable communications with all of the Lower Colorado River Authority's (LCRA's) approximate 9,500 users, as well as with the City of San Antonio, and Bexar County.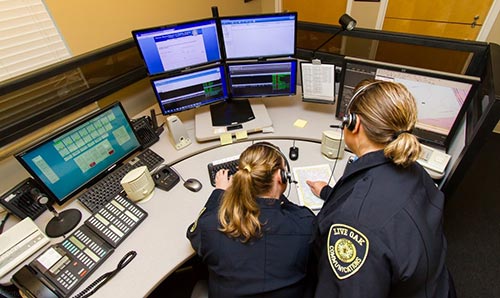 Most people don't know this, but Live Oak Communications provides emergency services to the cities of Live Oak, Selma and Judson Independent School District. In 2012, Live Oak Communications answered nearly 200,000 911 calls for these three agencies; over 15,000 of those calls were from mobile phones. It is important to remove the batteries from your old mobile device if you let a child play with it because even disconnected mobile phones can still dial 911. This is important to know even if you don't let a child play with your disconnected mobile phone because you can still reach a 911 operator in an emergency.
The Live Oak Communications Center is made up of nine full time Telecommunication Operators and one supervisor. Of these ten personnel, four are Advanced Telecommunicators. In order for a TCO to reach an advanced status, the TCO must have completed at least 4 years of service and 240 hours of training to include classes such as Ethics, Cultural Diversity, Spanish and Crisis Communications, just to name a few. Our Communications Center is in a constant state of training. We have two Communications Training Officers that update training information weekly and disseminate it to the rest of the team. We are proud to serve the public with any questions or concerns. If you have a non-emergency, you can call 210-653-0033. If you have an emergency, please dial 911.
---
When to Call 911
In an emergency, call 911 or your local emergency number immediately from any wired or wireless phone.
An emergency is any situation that requires immediate assistance from the police, fire department or ambulance. Examples include:
A fire
A crime, especially if in progress
A car crash, especially if someone is injured
A medical emergency, such as someone who is unconscious, gasping for air or not breathing, experiencing an allergic reaction, having chest pain, having uncontrollable bleeding, or any other symptoms that require immediate medical attention
Important: If you're not sure whether the situation is a true emergency, officials recommend calling 911 and letting the call-taker determine whether you need emergency help.
When you call 911, be prepared to answer the call-taker's questions, which may include:
The location of the emergency, including the street address
The phone number you are calling from
The nature of the emergency
Details about the emergency, such as a physical description of a person who may have committed a crime, a description of any fire that may be burning, or a description of injuries or symptoms being experienced by a person having a medical emergency
If you are unable to speak you can text to 9-1-1, this feature can also be tracked by GPS coordinates from your cell carrier. It is imperative to give your location in case the coordinates are incorrect.
Remember, the call-taker's questions are important to get the right kind of help to you quickly. Be prepared to follow any instructions the call-taker gives you. Finally, do not hang up until the call-taker instructs you to.
If you dial 911 by mistake, or if a child in your home dials 911 when no emergency exists, do not hang up—that could make 911 officials think that an emergency exists, and possibly send responders to your location. Instead, simply explain to the call-taker what happened. Be aware that a disconnected cell phone is still able to call 911 if the battery is charged. Please do not let your children play with old cell phones.
---
More Information:
| | |
| --- | --- |
| Non-Emergency Live Oak / Selma Communications (24 hours) | 210-653-0033 |
| Non-Emergency for Judson ISD PD (M-F 8-5) | 210-659-9789 |
| Non-Emergency for Selma Police Department (M-F 8-5) | 210-651-5368 |
| City of Selma Municipal Office | 210-651-6661 |