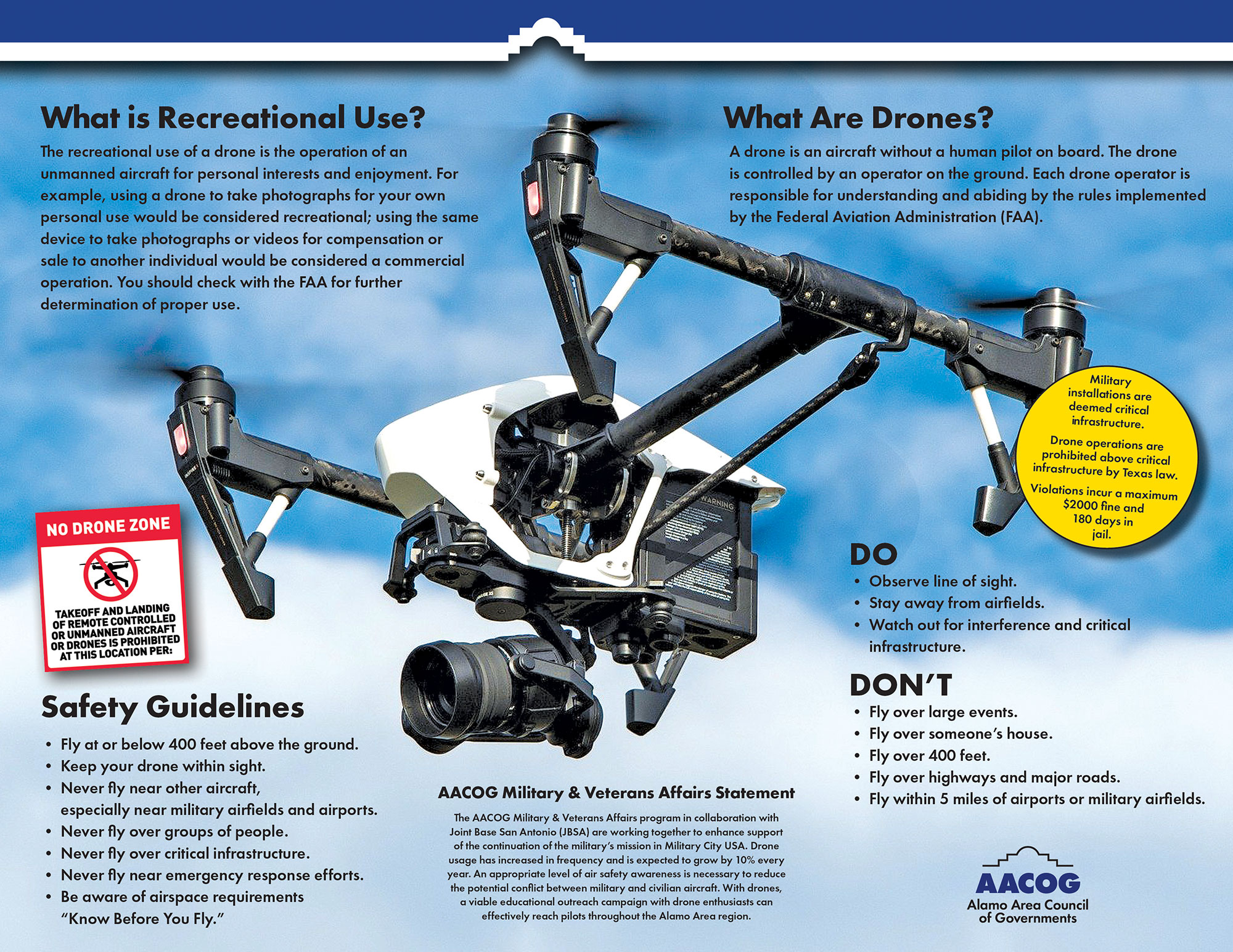 ---
What Are Drones?
A drone is an aircraft without a human pilot on board. The drone is controlled by an operator on the ground. Each drone operator is responsible for understanding and abiding by the rules implemented by the Federal Aviation Administration (FAA).
What is Recreational Use?
The recreational use of a drone is the operation of an unmanned aircraft for personal interests and enjoyment. For example, using a drone to take photographs for your own personal use would be considered recreational; using the same device to take photographs or videos for compensation or sale to another individual would be considered a commercial operation. You should check with the FAA for further determination of proper use.
Safety Guidelines
Fly at or below 400 feet above the ground.
Keep your drone within sight.
Never fly near other aircraft, especially near military airfields and airports.
Never fly over groups of people.
Never fly over critical infrastructure.
Never fly near emergency response efforts.
Be aware of airspace requirements. "Know Before You Fly."
DO
Observe line of sight.
Stay away from airfields.
Watch out for interference and critical infrastructure.
DON'T
Fly over large events.
Fly over someone's house.
Fly over 400 feet.
Fly over highways and major roads.
Fly within 5 miles of airports or military airfields.
Military installations are deemed critical infrastructure.
Drone operations are prohibited above critical infrastructure by Texas law.
Violations incur a maximum $2000 fine and 180 days in jail.

AACOG Military & Veterans Affairs Statement
The AACOG Military & Veterans Affairs program in collaboration with Joint Base San Antonio (JBSA) are working together to enhance support of the continuation of the military's mission in Military City USA. Drone usage has increased in frequency and is expected to grow by 10% every year. An appropriate level of air safety awareness is necessary to reduce the potential conflict between military and civilian aircraft. With drones, a viable educational outreach campaign with drone enthusiasts can effectively reach pilots throughout the Alamo Area region.